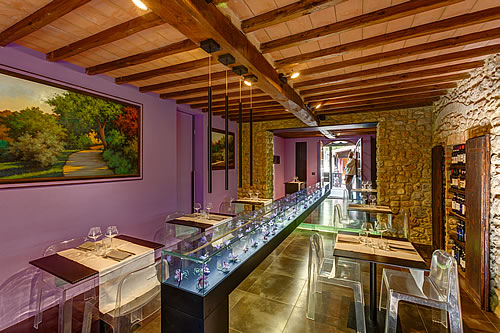 The Zafferano restaurant in San Gimignano is part of the agriturismo Casanova di Pescille: a typical Tuscan family cottage, smoothly run today by its fifth generation, and offering bucolic views of the towers of San Gimignano towards Volterra.
First things first: Zafferano is an agritouristic restaurant of unique personality built atop an uncommon focus on quality, refinement, beauty and professionalism, all in a setting without equal in the whole world.
Kitchen and raw materials
The young professional chef Saverio Fanciullini runs the kitchen, helped by his team and the whole family.
As known, crafting great dishes takes an excellent chef, but raw materials really make the difference; and in this case, they are produced directly or selected by other companies in the Tuscan territory.
This mix yields finished product of a remarkable quality: Excellent on the palate whilst aesthetically pleasing - because true gourmands feast with their eyes too!
Location
In a daring mixture of the old and the new, our location brings together the classic architecture of country houses, with modern furnishings and bold colours.
The Zafferano restaurant in San Gimignano features chestnut beams and red bricks, combined with a completely black floor; exposed stone walls with transparent or black chairs, a door dating the 1700s and a glass bulletin board, in which dozens of crocheted saffron flowers are lit by hundreds of LEDS; walls painted in deep lilac hues, like saffron flowers. And finally, the oil paintings by Fabrizio Ferrari, a colourful feast for the eyes.
This extraordinary setting is completed with an outdoor veranda overlooking the pool, which offers a breath-taking view of the Tuscan countryside.
You need only sit down and let our family staff pamper you with the seasonal menu and a wine list, filled with house and local proposals of excellent quality, arranged in a crescendo of flavours and goodness.